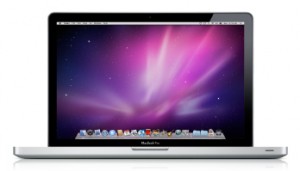 Finally, after nearly four years, I have a new laptop, a 15″ MacBook Pro, with all the trimmings. It's not brand new, I bought it from a friend who, perversely, wanted a smaller laptop after owning this one for six months. I wasn't going to complain though, as it's two grand's worth of kit with two and a half years' worth of AppleCare left for just over half its original cost.
It's the 15″ 2.8 Ghz Intel Core Duo model (the fastest processor currently available in a MacBook Pro) with 4Gb of RAM, a 500 Gb hard drive and the second separate NVIDIA graphics controller with the separate 512Mb VRAM, although I don't see myself using that too much since it absolutely hobbles the battery life and I'm not a big games player. It's nice to know that it's there should I need to though.
I'm very pleased with it, it's a nice bit of kit that'll last me a fair few years. If a base model original Macbook can last me three and a half years then I should get a fair amount of mileage out of this one before needing to replace it.