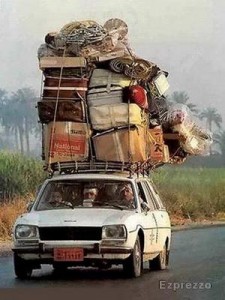 For the third time in as many years I am moving house. I'm not moving far, just to another apartment in the same building, so it's not a full blown affair with packing boxes and a rented van, just one flight of stairs (or the lift for the heavier items).
I'm moving in with my friend Chris and renting out my apartment to another friend. This move is designed to help me reduce my living costs for the next couple of years as I prepare for university, study at university and then decide what I want to do once I've graduated next year. This is all assuming of course that I get accepted on the course, I've not yet finalised my application because I'm waiting on an academic reference to come through from my previous university.
There's going to be a bit of a period of adjustment because I'm used to living on my own and both Chris and I seem to have rather a lot of stuff, which needs to be thinned out if it's going to fit in the apartment, despite the fact that it's 50% larger than mine! It'll be another change for my cat too, but she seems to be quite adept at moving house as this too will be her third time in as many years and she didn't seem to mind too much last time.
So there you are. I will keep you posted as to how things go with everything.