I've been an iPhone user and fan ever since the original iPhone came out and I've used one for the past four and a half years. I had the original iPhone, the 3G, the 3GS and then I skipped a couple of models and now have an iPhone 5. I've smashed the screen, obviously, by dropping a dumbbell onto it, but it seems unfashionable to have an iPhone with an intact screen these days and the dumbbell thing* gives me man points.
Smashed screen aside, the iPhone 5 is a very capable smartphone. However, I'm at the point with it where I believe it is in fact too capable I'm struggling to justify ownership of it. I find that I actually use very little of what it has to offer. I use the phone, obviously, text messages, e-mail, Facebook, Twitter, Foursquare, Maps, Camera, iPod occasionally*, National Rail enquiries and a handful of other apps on an occasional basis. Although my old 3GS was slow, there was none of this that it couldn't do and there is nothing I use my iPhone 5 for now that I didn't use to use my 3GS for (with the exception of the camera, I didn't used to use that on the 3GS because it was properly awful). I use mobile apps on my iPad much, much more than I do on my smartphone; my iPad is where I need the mobile computing power and features.
My point is that I'm paying for (£45 per month on a lease) and carrying around this massive overpowered pocket computer with me everywhere I go, with its fragile screen, poor battery life and a relatively high chance that I'll get mugged for it one day, when I barely use its capabilities. When Apple launched the iPad Mini earlier this year I had very high hopes that they would follow suit with a smaller iPhone, the iPhone Mini, or whatever; a device which isn't as powerful as a full-blown iPhone but is smaller, has a better battery life and can do the basics like make phone calls, text messages, basic social media apps, iPod, a reasonable (if not overly fancy) camera, etc.
My hope was that they would base it on the iPod Nano: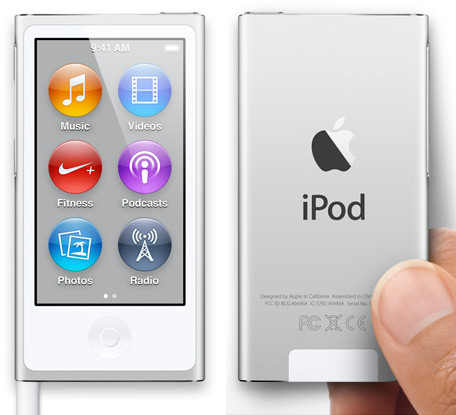 This device has a small colour multitouch screen with an iOS-like interface which is clearly capable of handling a form of application selection. I cannot imagine how it would be hard to include the necessary electronics for a mobile phone and wifi into a package this size, even if it had to be slightly thicker perhaps than a plain iPod Nano (in the same way that the iPod Touch is thinner than the iPhone). It would have been perfect for me, so I got quite excited when I saw the rumours about the iPhone 5C – perhaps the "C" stands for "compact"?
But no.
The iPhone 5C is nothing more than a re-packaged iPhone 5, except they're making it out plastic, which will arguably be more robust, but is actually a decision that has mainly been made for cost-reduction purposes. Despite this, the 5C is by no means a bargain, offering a saving of just £80 over the even more powerful and even more expensive flagship iPhone 5S, which they have introduced to replace the iPhone 5. The top of the range 64Gb model costs more than an eye-watering £700.
They've missed a beat here. I'm not normally underwhelmed by Apple launches (although I am by no means a frothing fanboy before, during or after them), but this one may as well have never happened.
* I have, incidentally, eliminated the possibility of future dumbbell related screen smashes with the purchase of an iPod Shuffle for use in the gym. It's not possible to smash the screen on this because it does not have one.