So, after four and a half years of solid service from my second Mac mini (a 2.53Ghz Core 2 Duo polycarbonate), which followed three and a half years of solid service from my first Mac mini (a 1.5Ghz Core Solo polycarbonate), I now have a third. It's an aluminium unibody Intel Core i7 (2.7Ghz) and I've pimped it out with 16Gb of RAM and a 512Gb SSD, which will make it perform as fast as it will ever go. It's quite a departure from its predecessor in terms of speed and usability.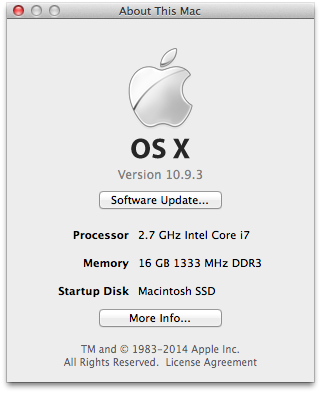 I was going to splash out on a new iMac, but something stopped me at the last minute (most likely the imagined image of the credit card bill arriving) and then the opportunity to acquire this Mac mini presented itself, so I've saved myself a fair whack of cash. I'm still running it on the two 1600×1200 20″ monitors I bought ten years ago, which, because I spent rather a lot of money on them in 2004, simply refuse to die because they're very good quality. The purchase of an iMac would have made these old faithfuls unnecessary redundant. The only real feature I've sacrificed in not buying the iMac is an up-to-date graphics card, which would have been nice, but an extravagant indulgence given how often I actually play demanding games.
This Mac mini should last me at least until the end of 2016 at which point I will consider my options again. I expect the monitors will probably last until then too, at which point they'll be even more old fashioned but even harder to retire due to my irrational loyalty to their continued enduring service.
In other news I now have a Windows PC on my desk at work. This is the only statement I'm willing to make about it.